How to get a Spanish Entrepreneur Visa or Spanish Freelance Visa
About this course
This course is divided into three modules. The modules are:
M1- What's the difference between the Spanish Entrepreneur Visa and Spanish Freelance Visa? This module tells you where to apply and talks about the pros and cons of both types of visas. This will help you figure out which you want to apply for and where. It also provides answers to my most frequently asked questions about obtaining these visas and links to Spanish Consulates/Embassies where you can apply from abroad.
M2- Required paperwork. This module explains the paperwork that you need mutually for the Entrepreneur Visa and Freelance Visa. It walks you through how to assemble the paperwork, which isn't always straightforward. It also includes the forms you need to fill out for the Entrepreneur Visa and shows you how to complete them.
M3-Additional paperwork required for the Freelance Visa. This module details the additional paperwork you need for the Freelance Visa, if you apply outside of Spain. It also includes the forms you need to fill out for the Freelance Visa and shows you how to complete them.
M4- Resources. I have lived in Spain over five years, and advised scores (if not hundreds- I lost track) of people pursuing both Spanish Entrepreneur and Spanish Freelance Visas. I have also personally successfully applied for both an Entrepreneur Visa, a Freelance Visa and renewed a Spanish Freelance Visa. In this module I share with you people that I have met and organizations that I have worked with that have directly helped me and others get these visas.
The courses are primarily reading based, but I also provide some short videos to walk you through how to fill out the forms.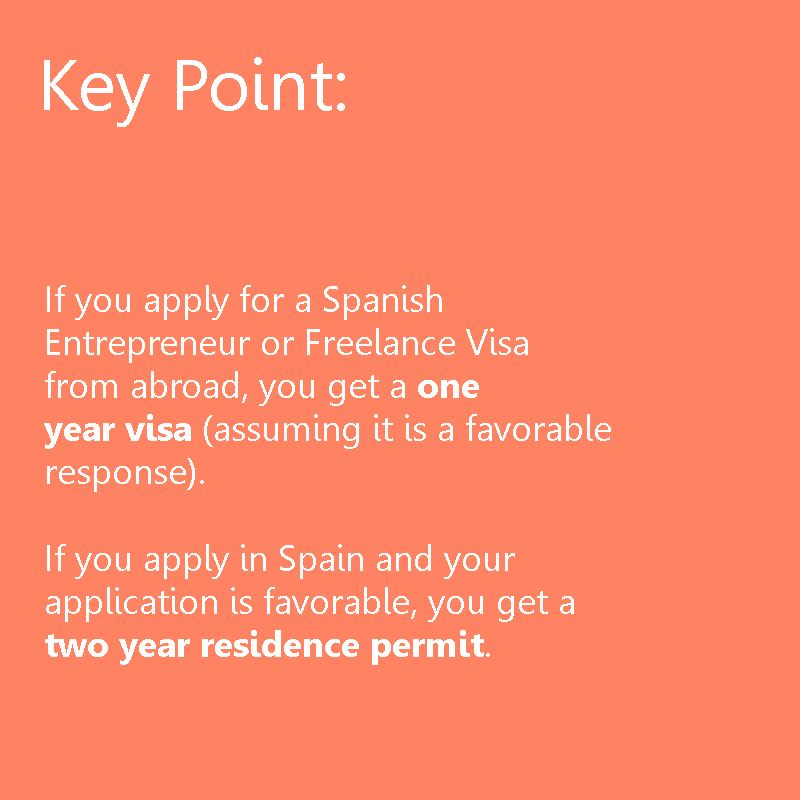 I also share with you my personal experience in both getting my own visas (technically I got residence permits because I applied for everything in Spain), renewing my work permits and helping other get a Spanish Entrepreneur or Freelance Visa.
FREE VOUCHER
This course includes a voucher to speak with me for a half an hour. You can also break this into two 15 minute consultations if you just have quick questions. To book this call, go to my calendar and book a half an hour slot.
After you book the appointment, I will email you and ask your preferred communication platform.
If you want to book additional consulting time, you may do so here: Additional consulting time with Mary Clare
Modules
M1- The Spanish Entrepreneur Visa vs. Spanish Freelance Visa & FAQS
M3- Additional paperwork required for the Freelance Visa