M2- Required paperwork for the Spanish Entrepreneur Visa
This module provides the following information:
Paperwork that you need to submit for both the Spanish Entrepreneur Visa and the Spanish Freelance Visa. This includes a copy of the business plan I used to get a Spanish Entrepreneur Visa.
Paperwork you need to submit that is specific to the Spanish Entrepreneur Visa, whether you apply in Spain or abroad.
The process for applying for an Entrepreneur Visa, both in Spain and abroad.
A bit of advice
Navigating the Spanish bureaucracy is all about being good at paperwork. My general tips for this are:
Always follow the instructions given by the Spanish Government, even if what they ask seems counter-intuitive or is not the way you are accustomed to doing things.
Make copies of everything.
Wait a few years before throwing anything away.
You need to assemble, and submit, the following paperwork to apply for both the Spanish Entrepreneur Visa and the Spanish Freelance Visa. Most of it is the same if you apply in Spain or abroad.
Paperwork required regardless of where you apply
1– A business plan
The most important of the required paperwork for the Spanish Entrepreneur Visa is a business plan. This plan needs to be in the format requested by the Spanish Government: Business Plan Summary. It must be translated into Castillan. The translation must be a sworn translation. I highly recommend Susan Curl to translate your documents into Castillan. She is very professional (not common in many local translators) and her turnaround time is extremely fast. You can contact her here: Curl Translations. Or email her directly at: susan@curltranslations.com.
NOTE: The business plan format they want you to use is an old school, traditional format. Not the short format that is popular in the tech world. I highly recommend you use the format they request, even if you think something else is better.
Here is a copy of the business plan, and accompanying financial statements, I submitted to get my entrepreneur visa. The business was considered to be in the technology field, and potentially created jobs.
Note: To see the full plan and financial statements, you have to go to the bottom of the first page and hover your mouse over the bottom of the page. On the left hand side is a little arrow. Click on that to see the pages.  In the next module, there is another business plan and financials I wrote to get my Freelance Visa. Finally, these business plans and financials are my property that I am sharing with course members. Please do not share with others that did not pay to take this course.
The Flying Carpet Business Plan Redacted

Flying Carpet Cash Flow Statement

Flying Carpet Profit and Loss Statement

2– A copy of your police record
This must demonstrate you do not have a criminal record. If you have lived in any other country for the past five years, you must provide a police report from there as well. This must be Apostilled and translated into Castillan by an official translator.
If you live in the United States, you can go through the FBI directly, which can take up to six months.
I used an agency out of Washington DC called Roca Authentication Services to obtain my police record. I have referred others to them, and they were also very happy with their services.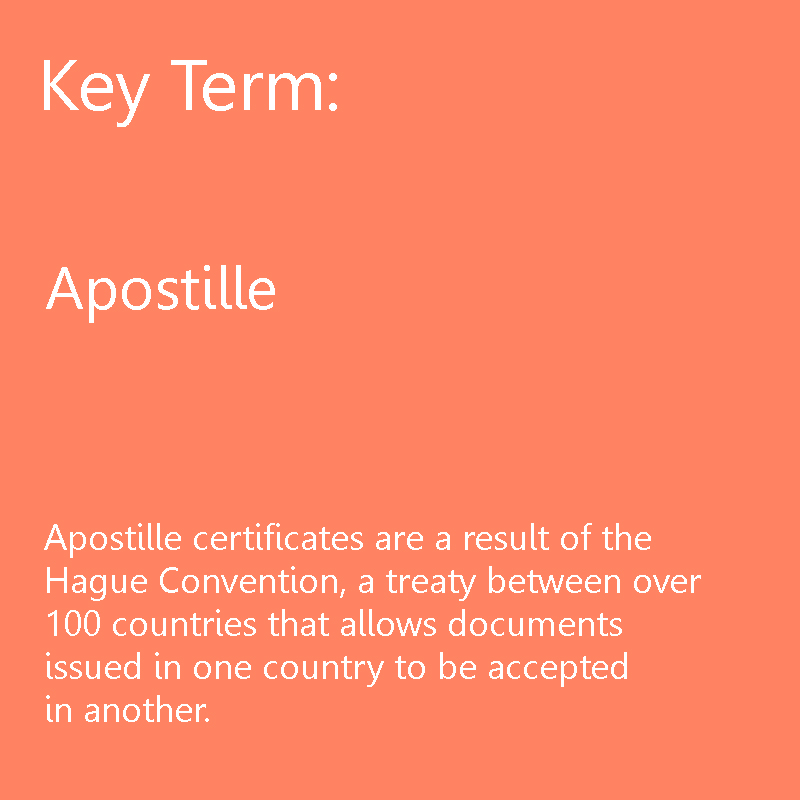 Just call or email them (they respond very promptly) and tell them you want a criminal record check to get a Spanish visa. They can also Apostille the document for you. It takes them a couple of days and they can express mail them to you. When I applied for my entrepreneur visa, it took them four days to process the request and send it to me via DHL. I paid around $300 for the service.
Note: my fingerprints were already in the FBI's system from back when I worked in financial services- for compliance reasons, many investment professionals are required to be finger printed. If you are not in the system, you will have to be fingerprinted first. If you reside in Spain, you can get them taken at your local police station. If you reside in the US, you can use this company: Fieldprint. Someone I worked with to get an entrepreneur visa recommended them to me.
"When I initially applied for my Entrepreneur Visa, Roca asked if I wanted them to translate the document into Spanish. I agreed, thinking it would save time. The Spanish immigration authorities did not accept the translation as it was not from a sworn translator, so I had to get it translated in Spain and resubmit the form. That held up my application a couple of days."
Police records for family members
You need to submit a police record for any family member applying with you that is 18 years of age or older.
What is an Apostille?
It is an international way of certifying documents to be try. It's the international version of a notary. As mentioned above, Roca Services can Apostille documents for you and send them to you via express mail.
3– Proof of health insurance that is valid in Spain
It is very important for the Spanish government that you show proof of private health insurance for yourself and any family members applying with you. When the economy was doing so well pre-2008, a flood of immigrants came into the country. They didn't have jobs and were a big drain on the healthcare system. The government is terrified of this happening again, so you and your family members must have private health insurance. The good news is that it is very cheap, particularly compared to US health insurance. Make sure it covers "repatriation" and "evacuation."
When I applied for my entrepreneur visa, I used Cigna Global. At the time they were the cheapest. I did a little internet search, and of the international carriers they are still the cheapest. In August, 2020, coverage for those residing in Spain was $69.82 per month. This covers up to $1,000,000.00 per year, which is far in excess of the 30,000€ required by the immigration authorities for an Entrepreneur visa.
If you want a Spanish carrier, you can use Sanitas. They are the Spanish brand of the English carrier Bupa (don't go with Bupa as they are very expensive). They are about the same price as Cigna Global, but the coverage is better: currently it costs 65.02€ per month.
Tip 1: My advice is not to enter into an annual contract for your insurance if you are applying in Spain. This is because as soon as you get your residence permit, you are eligible for Spanish universal insurance, which is some of the best in the world. Once you get your health card you can cancel your private insurance.
Tip 2: When you apply for your insurance, don't get coverage in the US unless you plan on spending a lot of your time there. US coverage greatly increases your monthly premium. You can always get travelers insurance when you go back to visit family or for business meetings.
4– A copy of every page of your passport
This is to verify that you are not in Spain illegally. If you are in Spain illegally, you can't apply.
You need to submit copies of the passports (all pages) of any family members that are applying with you.
"I know someone that overstayed her visa. They told her she had to go back to the US and apply. She was never able to get the situation resolved, to my knowledge. She is an award-winning movie director."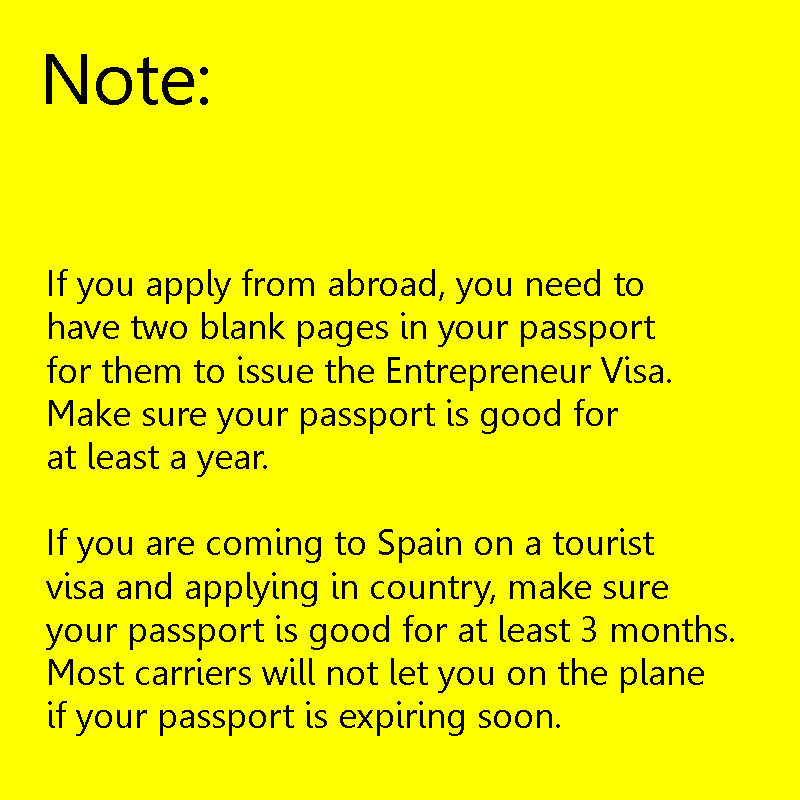 Documents that are different, whether you submit your application in Spain or abroad
1– Proof that you have funds sufficient to sustain yourself
Submitting in Spain
If you apply for an entrepreneur visa in Spain, you have to show you have funds sufficient to sustain yourself for two years. However, this is a little bit of a grey area as there is nothing published anymore stating the minimum amount required to have in the bank (or other liquids funds) to be approved for an entrepreneur visa. When I applied back in 2015, they said you were required to prove you had the amount equal to 24 times (to cover two years of living expenses) what the Spanish government considers sufficient monthly income to survive. This monthly income number is called the Indicador Público de Renta de Efectos Múltiples (IPRM). In 2015 it was 532.51€. In 2020, this number is 537.84€.
"When I initially applied, I couldn't believe the number was that low, so I rounded it up to 1,000€ per month and transferred 24,000€ into my Spanish bank account. I printed up a copy of the statement, submitted it with my visa application, and that was sufficient for me to get approved."
The numbers are more transparent if you apply abroad. Officially (although some Consulates ask more), you are supposed to demonstrate you have 1,075.68€ per month to sustain yourself. If you want to be safe, show the authorities you have this number, times 24 (25,816.32€), if you apply in Spain.
If you don't have that much money, it's your call. I am fairly certain that the 537.84€ number above is the true minimum amount- This is because if you apply in Mexico City, that is the number the Consulate requires. Which tells me that is the real number. However, I don't know anyone that has risked going that low. If you do show this amount and get your visa approved, I would love to hear about it!
You must demonstrate additional funds for each family member you bring with you. Again, if you want to be super safe, I recommend showing an additional 537.84€ per month per family member. As I mentioned above, my instinct is that the numbers the Mexico City Consulate requires are the true number required if you submit in Spain: You have to demonstrate 537.84€ per month for yourself plus 268.92€ for each additional family member.
If your bank statements are in English, you will need to have them translated into Spanish before you submit them. Again, by a sworn translator.
I have also seen someone submit a letter from his bank in the US (it was Citibank, so a very reputable bank) that detailed the amount of money he had available in different accounts. He had it translated into Spanish and submitted it with his application. His entrepreneur visa application was approved.
Submitting abroad
Things are a lot more clear if you submit from abroad, as the Consulates usually publish clear guidance. Check your Consulate's website for details. This is what the fees are if you apply in the United States: Funds required to prove economic sufficiency for Spanish visas. It amounts to 200% of the IPREM. Although the numbers in this table are for 2018, note that the IPREM is the same in 2020 as it was in 2018.
If you apply with family members, the amount if you apply in the United States is an additional 537.84€ for each family member that you bring with you.
NOTE: There is a lot of variation in these amounts across countries, so make sure you check your Consulate's website carefully.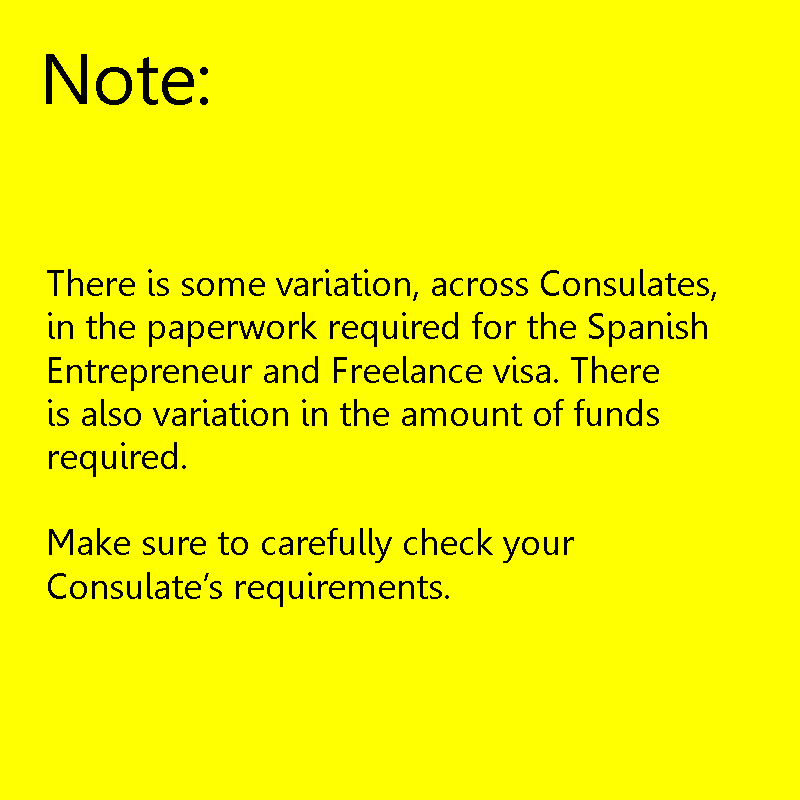 Again, all bank statements must be translated into Spanish by a licensed translator.
2– Application Forms
You must submit application forms when you apply for an Entrepreneur Visa.
Submitting in Spain
Here is the application form you need to complete if you submit your application in Spain: Solicitud  de Autorización de Residencia
Video: How to fill out the application for the Spanish Entrepreneur Visa (actually a residence permit) if you are applying in Spain

Here is the application form you need to complete if you are including your significant other or dependents in your application: Solicitud de Autorización de Residencia. You must submit one for each family member.
Video: How to fill out the application for accompanying family members, or your significant other,  if you are applying in Spain
NOTE: If you are submitting an application for a family member, you must also submit documents proving your family ties.  For a spouse, this is a marriage certificate. For children, this is their birth certificate. For dependent parents, this is your or your spouse's birth certificate. All must be translated into Spanish and carry an Apostille. For a significant other, you have to register your union with the authorities. Here is how you do it in Madrid: Registro de Uniones de Hecho
Submitting abroad
Here is the application form you need to complete if you submit your application abroad: Application for a National Visa
The form is in English and pretty straight forward, so you don't need a video.  Confirm with your Consulate how many copies you need to provide. The New York City Consulate requires two copies. The only potentially tricky parts are:
Section 20: Tick the box "Residence without a work permit."
Section 22: I recommend ticking the box that says "Multiple entry."
After completing Section 23, skip the rest, sign and date.
3– Proof you have paid the tax/Consulate fees
Submitting in Spain
If you submit your application in Spain, the fee is 71.81€. To pay this, first complete this form: Modelo 790
Here is a video that tells you how to complete the form:
Video: How to fill out the form to pay the tax for processing your residence permit in Spain
Once you complete the form, take it to the counter of a bank and pay it (bring cash with you). Many banks no longer accept counter transactions from people that are not their customers. However, if this is the case you can pay it at the ATM/Cashpoint/cajero of major banks such as: Santander, Bankia and BBVA. If you need help, go inside and someone will always come out and help you.
Submitting abroad
If you apply for a Spanish Entrepreneur Visa abroad, you pay the fee via a money order from the USPS. In the US, the fee is $190. Make the money order payable to your Consulate. For example, "Consulate General of Spain in New York."
Make sure to verify the fee amount, and how to pay it, on the website of your Consulate.
Once you have all the paperwork completed, you are ready to apply.
4– Passport photos
Submitting in Spain
If you submit it in Spain, you don't need to submit passport photos. You do this later, when you go to get your residency card made.
Submitting abroad
If you submit abroad, you must supply two passport photos of yourself, and two for everyone else applying with you. They must  be color photos, 2 x 2 inches (51 x 51 mm.) in size, printed on matte or glossy photo quality paper, taken within the last 6 months to reflect your current appearance and in front of a plain white or off-white background.
How to apply for the Spanish Entrepreneur Visa
In Spain
If you apply in Spain, you are actually applying for a residence permit. All applications in Spain are now submitted digitally. You need a digital certificate to access the system. The issue is you need a NIE before you can get a digital certificate. If you have one, here is how you get the digital certificate: How can I register?
Once you have the certificate, here is where you upload all your documents: Alta Solicitud
Video: How to access the immigration portal and upload your documents
Note: If you don't have a NIE, here is how you get one: How to get a Spanish NIE in 5 Easy Steps. I wrote the article for a customer and the information is up to date and correct. I also give advice on how to fill out the form.
If you don't want to deal with the hassle of getting a NIE, I can submit the application for you using my digital certificate. I charge 100€ to do this for a person, and 50€ for each additional family member that you apply with. Email me if you are interested.
If you want to submit an application in Spain, I can do that for you as well. After you assemble the required paperwork for the Spanish Entrepreneur Visa, you can send it to me and I can submit the documents using my digital certificate. When you are approved, you can buy a plane ticket, fly to Spain and get your identity card made. I have done this successfully for people. Contact me if you would like to learn more.
From abroad
If you are applying from abroad, you:
Make an appointment at your Consulate.
Bring your business plan for it to get approved.
Once your business plan is approved, bring the letter of approval, along with all the other required documentation, to the Consulate and apply in person.
Again, please make sure to verify the process by checking your local Consulate's website.