M2- How to get backlinks
What you will learn: Techniques for getting other websites to link to yours.
Task: Create a backlink strategy and start implementing it.
Tools: Moz Free Domain SEO Analysis Tool, HARO (Help a Reporter Out)
Time: xx minutes to read the module and xx minutes to do the tasks

How to get a backlink
Back in the old days, there were a lot of ways to get backlinks to your website without asking the site owners to link to yours. In 2020, that is usually not a good idea.
Google now focuses on providing people the best possible user experience and serving them up high quality, informative content. Therefore, many of the things that used to work, like commenting on blog posts and including a link to your website, have been shut down. Remember the last module when we spoke about nofollow links?
In 2020, the best way to get high quality links is to ask the website owner or blog editor directly. There are a few ways you can do this.
Offer to write third party blog posts, in exchange for including links to your website in the article
This is my favorite way to get quality links. You have control over the content and the anchor text of your links. Moreover, you can use this technique to super-charge your cornerstone content by creating backlinks to it.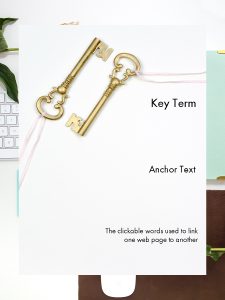 Example
Look at this link: SEO Case Study: Yoga with Adrienne
Technically speaking, this is the actual link: <a href="https://www.bespoke-digital-solutions.com/seo-case-study-yoga-with-adriene/" target="_blank" rel="noopener">SEO Case Study: Yoga with Adrienne</a>
The anchor text is just the words: SEO Case Study: Yoga with Adrienne
Most SEO experts agree that the words used in the anchor text do have some sort of value when it comes to ranking for a key phrase although, although Google hasn't shared the specifics. Since Google's crawlers learn about websites by looking at their links, it makes sense that a link's anchor text is important.
Steps for writing third party blog posts
Tool: Moz Free Domain SEO Analysis Tool
1– Determine your objective for writing the post. Do you want to promote a specific piece of cornerstone content? Or perhaps you want to drive traffic to a specific page on your site. Once you have your objective in mind, think of a couple of article topics you can pitch to blog editors/webmasters.
2– Make a list of sites that might like you to write a post for them about one of those topics. They can be sites of people you know, other local businesses in your area or businesses that are complimentary to yours. If your topic is newsworthy, you can also consider local or niche news outlets.
3– Go to Spyfu and find the monthly search traffic of each site on your list. Record it.
4– Go to Moz's Free Domain Analysis Tool and enter the domain name of each site on your list. Find and record each site's domain authority.
5– Look for sites on your list with the largest amounts of traffic and highest domain authority. Contact the top 5's owners and offer to write them a blog post, in exchange for including a couple links to the article in your post. Pitch the three article topics you came up with in Step 1. You can also offer to let them write an article for your blog in exchange.
6– Once you get their approval, ask them if they will provide images or if they want you to provide them.
7– Write the article. I typically write 600 word articles for guest posts, unless the blog's editor asks for something different. Make sure you optimize the article for search around a specific keyword. When I write a third party blog post, I always put three links to my website in the article: one in the first or second paragraph, one in the middle and one at the end. I use the name of the articles I am linking to as anchor text for two of the links and my key phrase as anchor text for the third link. Helpful tip: Write the article in Google Docs. That will preserve all of your title tags when they copy and paste the article into WordPress.
8– Source the images, if necessary. You can use your own, or use free stock images.
9– Write an SEO title and snippet to go with the article.
10– Send the article and images to the blog editor. Explain to them you optimized it around your key phrase and that should be the alt tag for half the images. Finally, tell them that as a courtesy you took the liberty of writing the SEO title and snippet for them. Include that in the email. If they are good at SEO they might prefer to create their own. However, if they are not good at SEO this increases the chances of them optimizing your article fully for search.
Guest blog post example
Here is an example of a guest post I wrote for a customer of mine called Moving2Madrid. Note how the articles I link to are part of a content cluster and the use of anchor text: How to make the most of Spain's Golden Visa Scheme. This is the cornerstone content article it links to: Which European country offers the best Golden Visa
Here is a template you can use to email people about guest blogging opportunities: Guest blogging opportunity template

Send them an email and offer to put a link to your website in exchange for a link on theirs
This is a good strategy for getting a large number of links with fairly little effort. Just make sure to tailor the letter to each website owner so it doesn't feel like spam. And always offer to give a link in return. I have a lot of people send me emails asking to include a link in one of my blog articles to their website, but they never offer anything in return. If they do, it's always a shout out on one of their social media channels, which isn't helpful in terms of SEO.
Steps for finding link trading opportunities
I find this technique works best if I ask them to link to a specific article that is very informative.
1– Find a cornerstone article you want people to link to. As you saw above, this is an article that worked well for me in the past: Which European country offers the best Golden Visa.
2– Find sites that might find linking to this article useful. For the above example, you want to find blog articles that were aimed at people wanting to relocate to Europe. So you can do a Google search on "how to relocate to Europe." The first article that comes up is this: Top 7 Cities to Work in Europe 2018.
Before you open the article, you see the article was updated on April 14, 2020. This tells us the article is being updated regularly. If you look at the article, you can tell it is optimized for search: it uses short sentences, there are images and lots of external links. All of these factors tell us that the owner of the website is focused on SEO, which means they would probably be happy to give us a link in return for putting one on our website.
Now that we have determined this, we want to contact the website owner/author of the article and ask to link to our Golden Visa article. If you scroll to the bottom of the article, you can see they even give you the name of the writer: Charlie Clissitt. If you Google him, you can see he is very easy to contact via social media. So I would send him a message like this: Link sharing letter example
If the name of the author wasn't provided, you could always email the company: info@movehub.com.
Once you write the first letter, go back to your Google search results and do the same with all the articles you find on the first and second pages of the SERPS.
Do an "expert round-up post"
This is actually a strategy to interlink your site with those of others. It also helps build the relationship with other website owners.
Around twice per year, I ask website owners I have guest blogged for their opinion on a certain topic. I typically ask them one or two questions, either via email or on the phone (if it's easier). Most people are happy to participate as it (1) makes them feel important and (2) gives them a backlink to their website on yours.
After you get everyone's answers, you can publish them all in one article. I recommend including links to the social media accounts and either their photo or company's logo.
You can also do this before you ask for guest blogging opportunities to help build the relationship.
Here is an example of an expert round-up I did for Moving2Madrid: Expert's predictions for the Madrid real estate market: Where are we headed in 2020?
Other ways to get links
Respond to HARO pitches
Leverage your social media accounts
Redditt comments
Lists
How to create a backlink building plan
Takeaways
FAQS